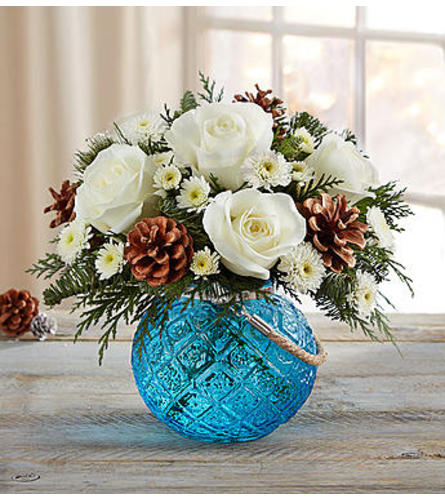 's Perfect Bouquet
Winter Warmth™
---
Description
---
Warm up their winter with our standout bouquet that blends rustic charm and global chic. Bright white blooms look just like freshly fallen snow against a mix of evergreens and pinecones. And for a truly unexpected - and eclectic - surprise, we've paired it with our exclusive new bubble vase. Inspired by the rich blue water of the Mediterranean Sea, it features an antique pressed glass design and rustic rope handle. An added tea light candle transforms this piece into a unique candle holder, bringing beauty and vibrancy into any home.
Product ID 161256M
Approximately 11"H x 10"L
What People Are Saying
---

Donna D.
02/25/2016
Dawn met with me personally to review my colors and floral preferences for what is to most people the most important day of their lives ~ our wedding ❤ She really helped the vision in my head become a reality. Since we had to travel 2 hours to our destination wedding in Bethany beach, she prepared all my flowers and bouquets for safe travel and provided perfect instructions to keep them beautiful for our special day...

Sara J.
08/24/2015
I absolutely love the staff at DiBiaso Florist. They are welcoming and warm and if you spend enough time there they become more like family! I got married last year in September, this was the first time I worked with Dawn and the florist, and they were amazing. The customer service I received was impeccable and the flowers for my special day were breath-taking and perfect!...
Source: Facebook
You May Also Like
---